High Tech & Electronic Devices Industry Solutions
SIMULIA Technology for High Tech & Electronic Devices Applications
Perform accurate simulations to validate demanding environments
Robust Non-Linear Capabilities
SIMULIA Abaqus is known in this particular industry for robust and powerful non-linear capabilities.
Powerful Contact Capabilities
SIMULIA Abaqus has unique and extreme powerful contact capabilities compared to our competitors.
Integrated Thermal-Structural Couplings
SIMULIA Abaqus has flexible methods to model the thermal-structural behaviour of your electronic devices.
Combined Software Technologies
With the Extended Token model, you can access the complete SIMULIA Portfolio from the same token pool.
SIMULIA High Tech & Electronic Devices applications
Perform realistic simulations for  specific industry behaviours.
Drop test Analysis
Predict the robustness of your electronic devices by performing realistic drop test simulations.
Thermal Analysis
Simulate the thermal behaviour to prevent overheating effects, or warpage due to thermal expansion.
Electromagnetic Analysis
Predict eddy-currents or joule-heating effects due to magnetic fields and current.
Ball Impact Analysis
Simulate Ball Impact tests to guarantee robustness for your electronics testing and certifications.
Applications of SIMULIA Technology for the High Tech & Electronic Devices Industry
Analyses performed in the High Tech & Electronic Devices Industry with SIMULIA Technology
Use many analysis possibilities, like:
Droptesting & Robustness Analysis
Frequency & Vibration Analysis
Mechanism Analysis
Heattransfer Analysis
Electromagnetics Analysis
Solder Joint Analysis
Three Point Bending Test
Thermal Fatigue Analysis
Acoustic Analysis (Hearing Aids)
Printer Paper Jam Analysis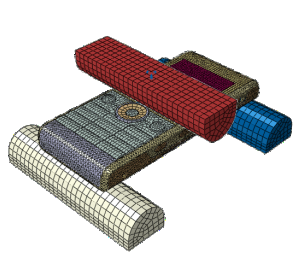 Can you perform realistic simulations yourself?
Join one of our FREE workshops and discover how easy it is to perform realistic FEA to solve your complex engineering challenges.