Advanced Abaqus Training
Efficient training to expand your current Abaqus knowledge
Efficient learning to maximize results
The training consists of theory, trainer examples and clear workshops to exercise what was tought.
Flexible planning for your schedule
Each month training is planned and we are flexible to change that scheme for your convenience.
Certified SIMULIA Training Centre
A fully utilized training centre with certified trainers to serve your training needs.
Official SIMULIA training material
Official SIMULIA training course material is used and handed out to assist your learning path.
Our Advanced Abaqus Training Courses
Multiple Advanced Training Courses on many Abaqus topics to expand your current experience
Abaqus CAE: Geometry Import and Meshing
What is it?
This course is teaches you how to use advanced Abaqus/CAE capabilities for working with complex geometry including CAD geometry import, geometry repair, and advanced strategies partitioning and meshing.
Obtaining a Converged Solution with Abaqus
What is it?
This course is teaches you how non-linear problems are solved. We will learn you to develop models that will converge, and help you to identify modeling errors that cause models to experience convergence difficulties.
Abaqus Explicit: Advanced Topics
What is it?
With this training course you will learn practical skills and best practices for performing dynamic and quasi-static analyses with Abaqus/Explicit including general contact, mass scaling, adaptive meshing, output filtering, material failure, and more.
Abaqus for Offshore Analysis
What is it?
This in-depth, industry-specific course covers a wide variety of Abaqus functionality that can help overcome the unique analysis challenges commonly faced by the offshore oil and gas industry, like: Pipe-soil interaction, Abaqus/Aqua capabilities to model wave, buoyancy, current & wind loading and Coupled Eulerian-Lagrangian (CEL) approach in Abaqus/Explicit.
Adaptive Remeshing with Abaqus Standard
What is it?
This course covers the adaptive remeshing capability of Abaqus to reduce mesh-related uncertainty by using well-established methods for calculating solution error indicators, which in turn drive the remeshing process, ultimately providing a balance between solution accuracy and cost.
Advanced Abaqus Scripting
What is it?
This follow-up to the Introduction to the Abaqus Scripting course takes a deeper dive into both Python and the Abaqus Scripting Interface (ASI) and provides more hands on exposure with practically oriented workshops of moderate complexity.
Analysis of Composite Materials with Abaqus
What is it?
This course provides in-depth coverage of the composite material modeling capabilities in Abaqus including sandwich composite modeling, stiffened composite panels, composite layups using Abaqus/CAE, composite damage, failure, delamination and more.

Analysis of Geotechnical Problems with Abaqus
What is it?
Learn effective modeling techniques for the simulation of geotechnical problems with Abaqus including geotechnical material calibration and coupled pore fluid diffusion/stress analysis.
Automotive NVH with Abaqus
What is it?
This course focuses on the application of the linear dynamics capabilities in Abaqus to vehicle NVH (Noise, Vibration and Harshness) simulations; topics covered include non-linear preloading, substructures, structural-acoustic coupling for sound radiation simulations, complex eigenvalue extraction for break squeal simulations, and advanced NVH postprocessing using provided plug-ins.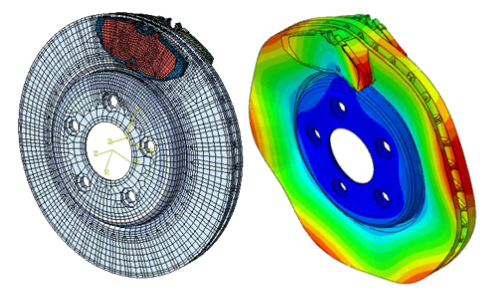 Buckling Postbuckling and Collapse Analysis with Abaqus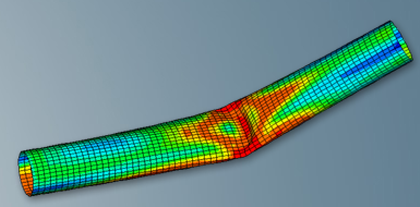 What is it?
This course you will learn how to use Abaqus to estimate buckling loads and to perform nonlinear unstable collapse and postbuckling simulations. Use linear eigenvalue buckling analysis, use the regular and damped static solution procedures, use the modified Riks method and use dynamics solution procedures.
Modelling Rubber and Viscoelasticity with Abaqus
What is it?
This course covers materials such as rubber and resilient foam which are commonly modelled as nonlinear elastic. Learn how to model the large-strain elasticity of rubber and foam within Abaqus.
Crashworthiness Analysis with Abaqus
What is it?
This course covers the basics to perform crashworthiness analysis with Abaqus. You will learn to apply general contact, understand element selection for crash simulation, manage material models used in crash simulation and apply multiple mechanisms for damage and failure modelling.
Electromagnetic Analysis with Abaqus
What is it?
With this training course you will learn how to use the electromagnetic capabilities in Abaqus/Standard to perform low-frequency eddy current analyses, transient eddy current analyses, and magnetostatic analyses
Modeling Fracture and Failure with Abaqus
What is it?
This course covers the techniques for capturing crack-tip singularities in fracture mechanics problems. We will teach you to use Abaqus CAE to create appropriate meshes for fracture studies. You will be able to simulate material damage and failure and simulate crack growth using cohesive behaviour like VCCT and XFEM.
Can you perform realistic simulations yourself?
Join one of our FREE workshops and discover how easy it is to perform realistic FEA to solve your complex engineering challenges.